"Focusing on formalities is limiting your options"– The story of Tim, software developer from the USA and Paul from hepster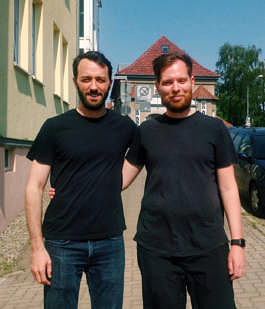 International professionals are a growing resource on the job market in Rostock. Many companies still feel insecure with hiring non-German speaking professionals; they fear formal issues and communication problems with the other employees.
But more and more young businesses in the Rostock region understand the potential of foreign experts, just like hepster, an InsureTech StartUp. "When I see an application, I focus on the qualifications and the positive contribution this person might give to the team", says Paul, head of backend development at hepster. "We're already working in an international team, with international clients. Focusing on formalities is limiting your options in the recruiting process." When he heard from the Welcome Center Rostock about Tim, a software developer from Virginia, he was immediately interested. "Tim is a great match for our team", Paul explains, "Since English is the global business language and is the spoken language in our branch in many ways, it's a great advantage for us to have a native speaker on board." Of course, some communication problems might occur. "Our staff has different levels of skill in English. Sometimes this could cause misunderstandings. But we're working in multidisciplinary teams, so we're all working together and helping each other."
For Tim, the work at hepster is also a perfect match. His wife got a position at the Max-Plack-Insitute as a researcher, so the whole family moved from Virginia to Rostock. "We had a lot of help from the Max-Planck-Insititute and of course the Welcome Center", Tim says. "I like Rostock very much. It has a great size, you can go everywhere by bike and there is a large international community. But mostly, I'm impressed by the child care options. Our Kita is just wonderful!" Without the help from Max-Planck-Insitute and the Welcome Center, it would have been hard to find their way around, Tim admits. "It's very complicated to deal with the language, and many things are available in German only, especially the websites of the authorities. We needed a lot of assistance until we understood how everything works and got along with all the formalities." At hepster, Tim is able to continue his career in software developing and is looking forward to starting his job in August. "When the Welcome Center informed me, that they forwarded my CV to hepster, I hadn't thought that things might go so quickly and smoothly. I really appreciate hepster giving me a chance. I was also offered a German training by the company, which I consider very thoughtful."
The story of Tim and Paul is a great example of how companies could work their way through potential difficulties with international staff and use their skill for improvement. For Tim and his family feel at home in Rostock got a lot easier – and the new language skills can be used perfectly for a little afterwork-chitchat with the new colleagues.