"FESTmachen in Rostock- we are celebrating double anniversary!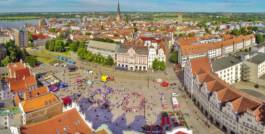 Rostock's inhabitants, visitors and holidaymakers will be able to witness many festivities in 2018 and 2019 as the city of Rostock celebrates its 800th birthday and the University will celebrate its 600th anniversary in 2019.
A lot of events around the topics of culture, sports, science, business and international affairs will be organized. Everybody is invited to visit more than 100 events on the occasion of this double anniversary.
The city has created an own website, where you can find an overview of all events. Furthermore, there is a lot of information about the history of the city to discover on the interactive timeline!
We would like to introduce you to four important events that you definitely should not miss.
"Mecklenburg Vorpommern" day (18th- 20th  in 2018)
If you are planning to visit Rostock on Whitsun, you can expect the largest public party in Mecklenburg-Vorpommern. The city center will be a stage with a colorful program for young and old, fun, music and shows. Rostock will be host to the whole federal state that will present itself from its most beautiful sides.
Of course, the Welcome Center of Rostock region will also be present when our beautiful city is planning a party. We look forward to welcoming you to the pagoda mile at the University Square.
Further information can be found on the following website: http://www.mvtag2018.de/.
38. Internationaler Hanseatic day (21th – 24th  June in 2018)
This year, the Hanseatic and University City of Rostock has the privilege to be the host for the International Hanseatic Day.  More than 2,000 delegates, cultural and marketing professionals from 16 European countries are planning to visit Rostock to this special occasion.
Nobody should miss this multicultural spectacle. At seven event locations in Rostock's city centre you can discover the colorful world of the historic and modern Hanseatic League. In the city harbor you can admire traditional merchant ships and purchase goods from other hanseatic cities which are sold in the "Hansekontor". Furthermore, the city will celebrate into its 800th birthday on the evening of June 23rd with a big firework.
Further information can be found on the following website: http://hansetag-rostock.com/
Die Hanse Sail (9th – 12th  August in 2018)
Another yearly event is the "Hanse Sail". More than 200 participating ships such as traditional sailing ships and museum ships are accompanied by cruise liners, ferries and ships of the Navy. It is one of the largest international gatherings of ships in the world. Our insider tip: plan a trip to the Baltic Sea on one of the traditional sailing ship. Especially for fireworks Saturday night you can enjoy a view of Rostock which you will never forget.
More information about the exact program and booking on the traditional sailing ships can be found on the following website:
https://www.hansesail.com/en.html
Karls Eiswelt "800 Jahre Rostock"
Every year Karls Erlebnisdorf designs Europe's largest "ice-figure- exhibition.
This year the ice world holds the topic "The mysterious city – 800 years Rostock" according to the Rostock city anniversary. More than 22 artist from 10 countries were involved. The ice world will take you on a humorous and historic journey and has one or two interesting stories about the Hanseatic and University City. The ice world is open until the end of October 2018 daily from 09 am to 7 pm. More information can be found under the following link:
http://www.karls.de/blog/roevershagen/karls-eroeffnet-europas-groesste-eisfigurenausstellung.html
We wish you a lot of fun with the events!