Family from Wiesbaden is the 300th customer of the Welcome Center Region Rostock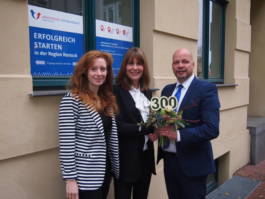 The Servicepoint for Professionals is the Welcome Center and therefore central contact point for all those who dream of working, living and moving to region of Rostock. Clients will be provided with comprehensive information material, come into contact with relevant partners as well as receive consultation relevant to their individual needs. The office now celebrates its 300th client after having opened its doors in January 2017.
The client is a couple with a three-year-old child who have spent the last eight years in Wiesbaden. The Poppe family now plans to return to Rostock. "Rostock used to be my wife's home town and me too, I fell in love with this region. Being so close to the Baltic Sea you can relax from all the stress around you and just take a deep breath of fresh healthy air, "explains Mathias Poppe. The Servicepoint for Professionals informed the computer specialist and his wife about their job perspectives in the region. "We maintain good contacts with regional companies and the Federal Employment Agency and know very well in which areas skilled workers are needed," explains Anne Wilde, head of the Welcome Center. Mr and Mrs Poppe have already been invited to various job interviews. As soon as the right job is found, the Servicepoint will also support the family in finding a  suitable accomodation and a kindergarden as well as give advice on possible leisure activities.
"We offer a 365-degree-welcome-package that provides valuable support throughout the entire relocation time of our clients helping them to settle down as fast as possible."adds Anne Wilde.
The Poppe family got aware of the welcome service during a restaurant visit in Warnemünde. At that time the Servicepoint was running an advertising campaign adressing holiday makers at tourist hotspots with the aim of convincing them to stay in Rostock region. "Yvonne from the Servicepoint was very kind and helpful right from the beginning. Pretty soon after our first contact various companies got in contact with us. We finally knew that we would soon be able to make the first check mark on our to-do list. We really appreciated their consultation which helps to overcome various hurdles when moving to a new place." says Mrs Poppe.
Just as the Poppe familly many Servicepoint clients are somehow rooted to Rostock region and have a spent a part of their life or unforgetable holidays here.
"Returnees are an important asset for the labor market because they can contribute professional qualifications and several years of working experience. Our welcome service makes relocating to Rostock more attractive and thus supports the moving in of skilled workers to the region, "says Rostock's Senator for Finance, Administration and Order Chris Mueller-von Wrycz Rekowski.