Campaign "Just stay here" addresses tourists with the aim of winning them as qualified professionals for the region of Rostock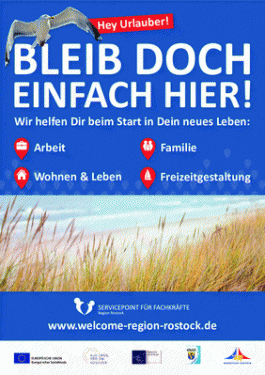 With the start of the holiday season, the region of Rostock welcomes many guests from other parts of Germany as well as from abroad who appreciate the advantages of the Baltic Sea region. These include numerous experts from a wide range of professional backgrounds, many of which are lacking here. Having in mind the high demand for qualified workers, the Servicepoint for Professionals wants to appeal to visitors with an advertising campaign that shall stress the advantages of starting a new life in the Rostock region. The campaign "Just stay here" includes measures such as CityCards and CityLight posters, which are present mainly at tourist spots in the inner cities of Rostock and Güstrow. The campaign is also supported by social media activities. "We would like to promote the region of Rostock as an attractive place to live, work and settle down. We have much more to offer apart from great holidays, "says Rostocks Senator for Finance, Administration and Order Dr. Chris Müller-von Wrycz Rekowski. In addition to excellent work opportunities, the region of Rostock is particularly appealing with its quality of life and family-friendliness. If you decide to move to the Rostock region, the Servicepoint for Professionals will make your arrival as comfortable as possible. Support is provided in the field of job search, child care offers, housing possibilities or the identification of leisure activities in the region.
Those who are interested will benefit from comprehensive information and come in contact with relevant network partners.